About Safe Movers DFW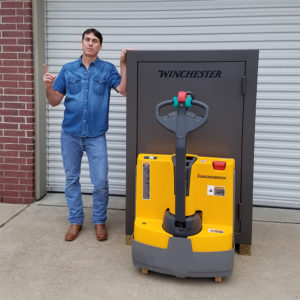 Safe Movers DFW is a Professional Safe Moving Company, that has been moving and Installing safes in the Dallas, Ft Worth Metroplex area for over 15 years. We are insured.
"We are a family owned and operated business, we have grown into the successful business that we are today because we have focused our vision on doing what is best for our customers by providing excellent and quality service. We know that by providing our customers with the necessities they need and the customer service they deserve that our business will continue to strive and grow in this industry." ~ Ronnie Dean
Safe Movers DFW has all the proper and knowledgeable personnel and equipment to get the job done, and that is how we will continue to ensure excellence in our service and products. We specialize in moving safes of all shapes, sizes and weights.
Safe Movers DFW is your best choice for all your safe moving needs.
Our Mission
We at Safe Movers DFW strive to provide you with the best customer service possible. Our philosophy has always been to focus on customer satisfaction and unmitigated integrity. Our vision is to help you, the customer, with your needs and to become your number one resource for Safe and Vault Moving.
What our clients say about our services:
"We absolutely cannot thank you enough for making the long journey to SA and then making the safe fit into my brothers garage! It is so seldom to meet people who go above and beyond (and keep their word) and it is hugely appreciated. thank you Ronnie!!!" ~ Birte
"Hi Ronnie! I so regret that I didn't get to meet you yesterday! thanks so very much for helping us solve our crazy situation! we love the electric combination lock! and, I was thrilled we could give you some business after all the time and concern you gave me, when you never even met me!" ~ Gaila

______________________________________________________________________________________________________________________________